OEM / Static Cling Window Tint
WINDOW FILM SED 81
Light Gray
V.L.T. 45%
IR cut 37.98%
UV cut 84.10%
Contact Creative-Shades Now!
45% VLT Static Cling Window Film (Light Gray)
Static Cling Window Film is a new style window tint which is adhesive-free/ no-glue window tint film for automotive use. The film is slightly thicker than normal window tint and could stay on window using the static cling effect. Static cling window film is easy to apply and can be quickly removed without any glue remain. It's reusable and can be peel & cling on whenever customer want.
We have 2 ranges of Static Cling auto-tint film, Static Cling Basic andStatic Cling Premium. Static Cling Basic is our basic range Static Cling window film, anti-heat percentage around 40% to 80%. Static Cling Premium effect can be over 85% for IR cut anti-heat which is top-grade for Static Cling Window tint film.
Creative-Shaded Industrial is an experienced manufacture for Static Cling window tint and automotive anti-heat product. We have over 30 years' experience and product export to world-wide including USA, German, France, Japan, and East-South country… etc. Customer including importer, wholesaler, retailer, store…etc.
Features of Static Cling Film
1. Easy to apply:Static Cling window tint is adhesive-free which makes it easier for DIY customer to cling on and peel off window. Could save the cost for professional to fit it.
2. Reusable window film: The biggest different between Static Cling Window Film and normal PET window film is that Static Cling Film can be used for many more times than normal window film which is beneficial for customer.
3. Reduce sun-glare & light reflection:There will have sun-glare/ sun-light during snowing day and in everyday afternoon which cause series traffic problem. With Static Cling automotive window film, the sun Glare could be effectively reduce and make the drive safer.
4. Easy to clean: Static Cling window film is self-adhesive window film and stay on window by its own clinging effect. There's no-glue on the window tint so can be wash directly by water then using squeegee when clinging on.
Standard:
Have pass "EN71 part III" and could also apply "RoHS" standard, can be import into US and Europe fluently.
Feature
Ultra transparency

High heat insulation

Fit in with EN71 part III

Reduce high glare reduction when driving, easily reduce the reflection of light.

Free cutting – can fit with any shapes of window.

Can be repeatedly used.

Raw material is made from Nan Ya plastic company.




Static Cling Window Film
Specification

Material: PVC

Minimum thickness: 0.15mm

Liner: paper, OPP film

Size (roll):

Width - 0.5M, 0.75M, 1M, 1.5M

Length - 30M or longer

Size (DIY):

50 x 300cm

75 x 300 cm

size can be customize
Reduce the light reflection of sun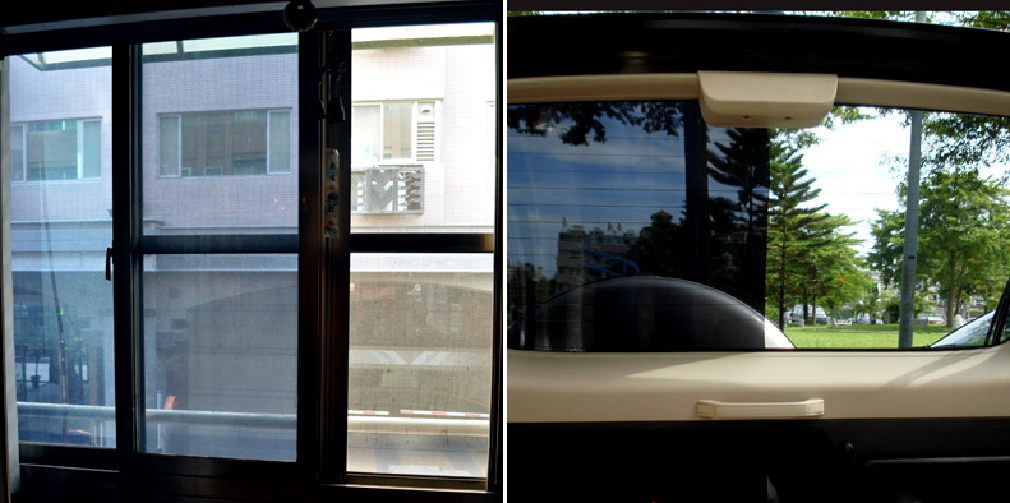 Packaging
Package (roll): Jumbo roll with carton.
SIZE

CARTON
(cm)

N.W./ G.W.
(kgs)

CTN

0.5 x 30M
56 x 17 x 18
5 / 5.75
1 roll / CTN
0.75 x 30M
81.5 x 17 x 18
7 / 8.28
1 x 30M
106 x 17 x 18
7.5 / 9.5
1.52 x 30M
158 x 17 x 18
17 / 18
Package (DIY): double blister
SIZE

CARTON (cm)

N.W./G.W.
(kgs)

/CTN

50 x 300cm
SED
62.2 x 14.2 x 6
0.47
1 set
carton
44 x 40 x 63.5
17.3 / 18.9
36 set
75 x 300cm
SED
88 x 14.2 x 6
0.68
1 set
carton
40 x 30 x 89
16.8 x 18.3
24 set
Product images


Video
Application for building


Application for car